a kick in the pants for more energy, self confidence and a healthy lifestyle that will stick!
YOU DON'T NEED A SUPER RESTRICTIVE DIET OR WORKOUT REGIME TO FINALLY FEEL LIKE YOU HAVE YOUR ACT TOGETHER!
Nothing feels better than having a healthy lifestyle you REALLY feel like you can stick with.
But we are human, things happen, and sometimes we just need a kick in the pants and a reboot. The New Year is a great time to focus.
Lucky for you, pants kicking for
ALL LEVELS
is my specialty!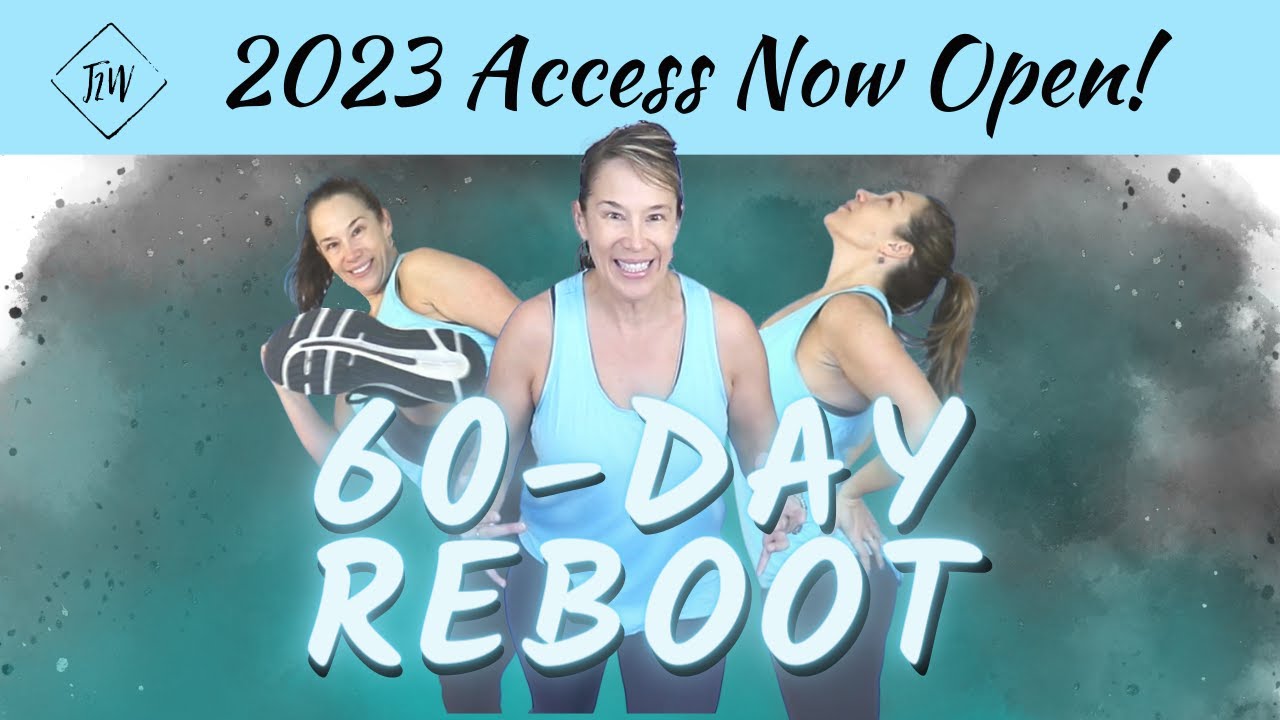 If you commit to making this happen for you, you'll see amazing results in a matter of weeks.

Whether you are new to the fitness world or you've tried every wacky diet out there, this flexible program will help you figure out what works for your body and your mind. Ready to show up, make yourself a priority and never get stuck in the 'on again off again' loop again?

THIS IS THE SYSTEM FOR YOU!
"Deb is incredible! Her energy and positive motivation on a daily basis exemplify her passion to help others. She genuinely cares about your health and well-being. And I love her fitness classes! I highly recommend!" ~ Christina C.
"One of the best things that's happened to me has been finding Deborah and Journey to Wellness. I'm stronger and healthier than I've ever been! ~ Dawn M.
YOU DON'T NEED MORE MOTIVATION. YOU JUST NEED A SYSTEM THAT WORKS!
T
If you want to finally stick to a fitness goal, live a healthy lifestyle or prove to yourself how capable you are, this is your chance.
THE

60-DAY REBOOT

IS FOR ANYONE WHO NEEDS THE GUIDANCE, SUPPORT & ACCOUNTABILITY TO REBOOT YOUR ENERGY BACK INTO HIGH GEAR.
NO GYM? NO EXPERIENCE? NO PROBLEM! EVERYTHING CAN BE DONE FROM THE SAFETY AND PRIVACY OF YOUR OWN HOME and I'LL BE THERE EVERY STEP OF THE WAY.
We don't all have desire to head to an overcrowded gym. We don't all have the time to get ready, commute, change footwear, sign up for equipment, wait for equipment, wipe down equipment and then drive back home!




In a fraction of that time you can...
Workout at any time that is convenient for you or attend one of the six live weekly virtual classes.

Roll out of bed or get up from your desk and workout right away...in your jammies if you like!

Have the kids in the house and let them see you taking care of yourself - no babysitters required!

Participate in effective workouts with modifications for every exercise so you can get a great workout, no matter your age, body type or fitness level.

Enjoy commute and stress free workouts - I come into YOUR home whenever you like!
BUT EXERCISE WILL ONLY TAKE YOU SO FAR. WITHOUT PROPER NUTRITION GUIDANCE, YOU'LL CONSTANTLY BE TRYING TO OUTRUN YOUR FORK!
We are busy. That's not necessarily always a good thing, but it's fact.
We do NOT have the time or desire to make special meals all the time and with the rising cost of everything lately, having a proven plan is one of the best ways to save your waistline and your wallet.
With the 60-Day Reboot, you
Can choose from two starting points based on your goals and readiness to commit - yes, you can dive right in or start slower - they both work! Deb will help you decide where to start.

Will have a proven plan that works, no matter what your food restrictions or preferences.

Won't have to worry about what or when you are going to eat with the done-for-you meal plans.

Have the flexibility to choose the do-it-yourself meal plans with guidelines and lists so you aren't guessing.

Will have dozens of recipes to try out, and access to multiple meal prep workshops so you don't have to prep alone!

Will have the support of the most amazing group and daily access to Deborah's guidance in the private Facebook group.
"I didn't believe in myself, but I believed in Deb. Her drive and push helped me discover a strength and power I never knew I had." ~ Ashley
"Deb is an awesome motivational coach. She is to the point and kind, but no nonsense at the same time. She has helped me immensely and I wouldn't be where I am today without her! She is extremely knowledgable and pushes you to your limits, but not past your point of discomfort. Her workouts are awesome and you can do what your body can take without overdoing it. Thanks Deb! ~ Tara
One of the biggest obstacles I've seen in past programs (and the reason I gave them up in 2022) was because it would break my heart to see you do so well, just to give up when the "program" was over.
But the 60-DAY REBOOT can be repeated again and again because it is a LIFESTYLE system.
You won't need to search for a new solution in 8 weeks. You can use this whole system, or the portions you feel work best for you, for the rest of your life!
uSE THIS sYSTEM TO GAIN ENERGY, BUILD STRENGTH AND CREATE A HEALTHY LIFESTYLE AND YOU CAN USE FOR THE REST OF YOUR LIFE!
CAN BE DONE IN THE GYM OR FROM THE CONVENIENCE & PRIVACY OF YOUR OWN HOME
You will have access to
six live virtual fitness classes per week plus the recording
for each class will be available for an additional 48 hours so you can exercise at a time that is convenient for you! Live classes range in length from 30-45 minutes and include a variety of strength and intervals. A set of dumbbells is helpful but anything you can use for resistance would work. Grab those water bottles and laundry jugs! Can't make 30 minutes? That's ok, jump on for as long as you're able or use one of our Rapid Express workouts! You'll also get access to an amazing group of guest instructors and specialty classes such as Pilates, Yoga, Stability Ball, Barre, Stretch, Pound Fitness and Zumba. The best way to stick with a plan is to find exercise you enjoy and stay consistent. That is exactly what these classes are designed to help you with. I try my best to infuse fun and laughter into our classes so you actually enjoy our times together.
Optional 6-Day Training Plans
If you prefer to workout on your own time or in a gym, you will also receive a printable six-day training program that includes Strength Circuits, Interval Training and Steady Pace Cardio.
60-DAYS OF NUTRITION GUIDANCE
Macro organized meal plans
Broken down into what types of food to eat and when, this flexible meal plan will provide you with the structure of your meals, but allow you to choose the food you like. I will provide food lists so you know what would fit where. I can even help you break down your existing recipes.
Sometimes we just like to be told what to do. With two three optional meal plans, depending on your committment level and goals, you will receive
complete weekly meal plan
with 7-days of breakfast, lunch, dinner and snacks.
Planning can be one of the very best things we do for our physical and mental health.Once per month, we get together online for a Meal Prep Workshop.
I provide you with the menu, grocery lists and recipes! Then we prep our meals in real time TOGETHER! We do it all together and we usually get 5-6 items done in just over an hour!
Meal Prep workshops are held one Sunday afternoon each month and we have food prepped for the week ahead!
You will receive access to ALL past workshop recordings.
No searching for recipes and no wondering if you have all your necessary ingredients on hand. I'll provide a number of healthy,
fat burning recipes
and corresponding grocery lists. I'll also provide tips on what and how to prepare food ahead of time. The key to success lies in the planning and I've taken on some of that work for you! You'll be amazed at how easy it is to do some prep work when you are organized and you'll be thrilled at how much time this will save during the week.
The biggest blunder of most 'programs' is that everyone is expected to start at the same place and intensity.
Step 1 - Step 2 - Step 3. But what if that doesn't work for you? Nothing will frustrate a newbie more than a super intense nutrition plan and if you are ready to dive in head first, nothing will frustrate you more than a slow and steady plan. I'm a hiker and there are always two ways up a mountain! Straight up will be tough and I won't like it at times, but it will get me there faster than if I take the slower switch backs that I could be a little more do-able. Both trails will get me to the same place and it is up to me to choose how I'm feeling and which I would prefer to take.
You will have choices
where you start and which path you take. But don't worry, I will help you figure that out if you aren't sure.
I never want you to feel like you are in this alone so we have a Private Facebook group where
you never have to feel alone
. A Facebook account isn't necessary to join access the resources and workouts, but it is where all the daily support and accountability will take place. Not only will you be surrounded by others going through the same challenges and successes you are, but
I will be in the group personally every day
, answering questions and offering support. We'll also have a couple hot topic virtual workshops to help you when you need it the most. I will be here to hold your hand through the highs and the lows. I know it isn't always easy but I promise you that making your health a priority will be worth it.
ALL THREE MEAL PLANS WILL BE AVAILABLE TO DOWNLOAD AND ARE YOURS TO KEEP!
It's all here for you to keep! I am handing over my BEST meal plans that have been PROVEN TO WORK with thousands of members. Depending on your goal and committment level, each plan is designed to give you exactly what you need at that time. And the meals are delicious! No special foods - no shakes diets - and most importantly, NO STARVING YOURSELF!
FINALLY, A SYSTEM THAT WILL HELP YOU ORGANIZE YOUR MEALS

AND

YOUR WORKOUTS INTO SOMETHING ACHIEVABLE.
You get access all the tools and resources you need, along with the kind but firm kick in the pants from me to help you increase your energy, self-confidence and FINALLY feel like you've created soemthing that can last the rest of your life. This isn't like other programs where you just sign up and are left on your own. My workouts are not all scripted - I speak from the heart and use the energy I feel from you. And I'm available after every single class to answer questions! I'm here for you every step of the way! Helping to change and improve lives is my passion, and nothing would make me happier than knowing I've been able to help you achieve what you've always wanted.
✓ Lifetime access to 60-DAY REBOOT PDF download that you can access digitally or print out for easy reference. It is yours to keeo. ✓ Access to the Journey to Wellness Virtual Fit Camp Community with classes, nutrition, mindset & cooking workshops, past workout videos On Demand and more! ✓ ALL live fitness classes and 48hr recorded replays from Jan 9 - Mar 10 (access begins Jan if you sign up early). ✓ Optional 6-Day Fitness Plan printable for use at home or the gym
✓ Detailed nutrition guides, multiple weeks of each meal plan to choose from, recipe options and grocery lists. ✓ Regular live classes, coaching and chats with fitness & wellness specialist, Deborah Peddle-Hann
NEED HELP ORDERING, HAVE QUESTIONS OR WOULD LIKE TO PAY WITH E-TRANSFER?
If you have any questions or concerns, please contact me by emailing info@journey2wellness.ca with 60-DAY REBOOT in the subject line.
GET UNLIMITED ACCESS FOR A FULL 60 DAYS WITH A ONE-TIME PAYMENT
This is will provide you with full access to the entire program from January 9 - March 10. Printables are yours to keep.
SAVE & GET IMMEDIATE ACCESS BY JOINING WITH A MONTHLY MEMBERSHIP
I don't believe in locking anyone into long-term membership. You may cancel your payments at any time.
FREQUENTLY ASKED QUESTIONS
Q: What classes and workshops are included?
A: Live classes are offered 6 days per week and most regular classes are approxiately 45 minutes in length. All can be done from the privacy and safety of your own home. If the live class times don't work for you, the recording of the class is available for 48 hours so you can exercise at a time convenient for you.
Tuesday Strength Circuits

Wednesday Tabatas

Thursday Early Bird Express (35 minutes)

Saturday Intervals (can join outdoors when weather permits)

Stretch & Yoga playlist

Both the Sunday Weekend Warrior and Monday Madness offer a variety of specialty workouts with Deborah, and our amazing guest instructors.

Speciality classes included but not limited to Pilates, Zumba, Total Barre, Cardio Pilates, Kickboxing, Yoga, Pound Fitness, and Stability Ball.

A variety of On Demand workouts from past classes - now includes over 250 workouts to choose from!

Mindset, Body, Nutrition & Meal Prep workshops.

Fun challenges to keep things interesting - and sometimes opportunities to win prizes!
Q: How do I access the classes, workshops and Virtual Fit Camp community?
A: Once you register through one of the links above, you will automatically be forwarded to the private Facebook community where all the magic happens! There you will find access information and links to all the fitness classes, recordings, the On Demand workout video library, recipes, video coaching workshops and more! Live classes are offered through Zoom. Everyone will be muted and you can have your camera on or off. **For the 60-REBOOT ONLY, you will be able to access all the resources and recordings on a private website. You just have to message me if you do not have Facebook access and we'll get you set up.
Q: What equipment do I need?
A: Although a comfy surface like a mat and a set of handheld weights are helpful, you can get started with absolutely nothing but your body. Find anything you have that would give you a little resistance like water bottles or soup cans! You also need a device to tune into the workouts with mobile service or wifi. We use Facebook and Zoom for classes and workshops.
Q: Do I have to be in shape to start?
A: Goodness no! That is why I am here - to meet you where you are NOW and help you on your own journey to wellness. I provide modifications for ALL exercises and I constantly encourage you to go at a pace that works for you.
Q: Do I have to pay with PayPal or Credit Card?
A: PayPal and Credit card is the easiest way to sign up and how you would sign up for a reoccuring subscription option. This way you know that your membership will automatically renew each month without worry. E-transfers are accepted on a month by month basis and are to be paid by the last day of the previous month (ie) January's payment is due December 31. If you wish to start mid-month and pay with e-transfer, please message Deborah to get a prorated fee. Please send your e-transfer to info@journey2wellness.ca.