FINALLY PUT AN END TO THE VICIOUS 'ON AGAIN OFF AGAIN' PATTERNS THAT RARELY WORK LONG-TERM!
In the Virtual Fit Camp, we are discovering ways to make our healthy habits and routines stick - FOR LIFE!
September brings the return of routines and allows you time to take care of YOU again! Why not take full advantage of this time to get a few healthy routines in place so you'll never have to worry about 'falling off the wagon' again. That is exhausting, frustrating, and needs to stop!
no more guilt no more shame no more frustration just you FINALLY LIVING your best life ONE HABIT, ONE CHOICE AND ONE DAY AT A TIME!
I will give you more than simply eating and exercise advice. Here you will learn how to live a real life, you are encouraged to eat real food with your family, you will join real people on a similar journey and you will have me here every step of the way. I will help you exercise safely and effectively and show you how to incorporate healthy food and habits INTO your life. All with that kind, but firm kick in the butt you sometimes need.
How often have you tried a 'program' and found yourself saying that "nothing ever works long-term"? I've been there too and the good news is I've discovered a way out! And I can't wait to share it with you because it could possibly be the biggest game changer ever if you allow it.
We desperately need a whole new way to view wellness and "weightloss" - ugg, I hate that word. And don't get me wrong! I love an awesome transformation!
Nothing makes me happier than messages saying I've helped change someone's life.
But we MUST change the narrative if we are ever going to feel healthy, happy and fit
permanently
. I'm a 48-year-old Mom of three and I've tried quick fixes to see results fast so I know where you're coming from. But drastic changes don't last! When you incorporate a few straight forward routines into your current life, instead of changing your entire life just to see a few temporary changes, you are better able to see a long term result.
so how WILL i help you get where you want to be?
WORKOUTS CAN BE DONE FROM THE PRIVACY OF YOUR OWN HOME OR TAKE ME ON THE ROAD WITH YOU!
Sometimes we just don't have the time or desire to go to the gym. Just transit time alone can suck up a lot of your day. Now imagine just being able to roll out of bed, open your device and start hanging out with me! No babysitters, no traffic or spending your life savings on gas. Gosh, you don't even have to get out of your pajamas if you like!
Fitness Classes + Recordings
You will have access to
six live fitness classes per week
plus the recording for each class will be available for an additional 48 hours
so you can exercise at a time that is convenient for you! Live classes range in length from 35-45 minutes and include a variety of strength and intervals. A set of dumbbells is helpful but anything you can use for resistance would work. Grab those water bottles and laundry jugs!
You'll also get access to an amazing group of guest instructors and specialty classes such as Pilates, Yoga, Stability Ball, Barre, Stretch, Pound Fitness and Zumba.
The best way to stick with a plan is to find exercise you enjoy and stay consistent. That is exactly what these classes are designed to help you with. I try my best to infuse fun and laughter into our classes so you actually enjoy our times together.
You will have
unlimited access to our private Workout Video Library
that is currently over 200 videos and growing. I'm removing all excuses one at a time. Just open the playlist and find a workout you want to do that day. Done!
REALISTIC & PRACTICAL NUTRITION GUIDANCE
Principle Based & Flexible Meal Plan
Get my top nutrition tips for living your healthiest and best life.
I base all my principles on REAL food
that you can get at a regular grocery store. My sample meal plans provlide you with a little structure if you need, but allows you to choose the food you like. This works great for food sensitivies, allergies and preferences. The meal plan is not required. It is simply there as a tool if you need a little guidance in this area. My goal is to help you develop strong LIFESTYLE habits so you can get comfortable with planning, cooking, and eating healthy, delicious food.
This is one of the newest and most valuable resources that was added to the Virtual Fit Camp this past year.
Once per month, we get together online for a Meal Prep Workshop
. I provide you with the menu, equipment needed, grocery lists and recipes! Then we prep our meals in real time TOGETHER! No special camera cuts or skipping ahead to something pre-done. We do it all together and we usually get 5-6 items done in just over an hour! Meal Prep workshops are held one Sunday afternoon each month and we have food prepped for the week ahead! New members get access to ALL past workshop recordings.
Our exclusive Facebook group houses a recipe database with
new recipes added weekly
. Recipes can be downloaded and saved. They are yours to keep. I'll also provide tips on what and how to prepare food ahead of time. The key to success lies in the planning and I've taken on some of that work for you!
I never want you to feel like you are in this alone so I have created an exclusive
private Facebook group
for Virtual Fit Camp members only! Not only will you be surrounded by others on a similar journey, but I am in the group daily, personally answering questions and offering support. I also host mindset and nutrition workshops, where we talk about a little of everything and I bring in guest experts when available. I throw in some fun challenges every now and then to keep it interesting, have a little fun and give you an opportunity to win prizes! I am also working on future activities, day excursions and weekend retreats
Deb is available anytime to answer questions, provide guidance and see success when it is hard for me to see!

"Deborah's program is very user friendly and not intimidating and she inspired me from day one!"

Olivia, Eastern Passage, NS

The Virtual Fit Camp community is a great place to keep motivated and feel uplifted. I love that I can choose a virtual live class or recording based on my schedule.

The Virtual Fit Camp community is a great place to keep motivated and feel uplifted. I love that I can choose a virtual live class or recording based on my schedule.

"One of the best things that's happened over the past year has been finding Deborah and #TEAMJ2W. I'm stronger and healthier than I've ever been. Thanks so much!"

Dawn, Middle Sackville, NS
BUT WHAT IF YOU NEED EVEN MORE accountability and personal support?

an optional upgrade is here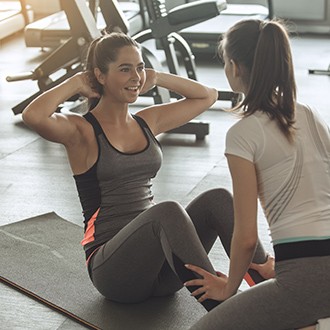 Sometimes we just need a slightly firmer kick in the pants.
That's why i created the

optional

inspirer membership!
This option is for the person who knows what you have to do but you need someone personally checking up on you! You'll get all the same resources as the Virtual Fit Camp membership, and you will ALSO receive...
We dive deeper into the do it yourself meal plan together to see if it is appropriate for you.

Four weeks of 'Done for You' meal plans with recipes and itemized shopping lists.

Weekly email or text message check in where I personally review your weekly journal - we decide together exactly what you will journal if necessary (ie) food, exercise, sleep, etc... This is based on what YOU need.

Monthly PRIVATE 30-minute face to face chat (via Zoom) with Deborah. That's right - you get your own private trainer to chat with about WHATEVER you want, without a huge time commitment and at a fraction of the cost of private training.
We live in a new era and nobody needs to feel 'less than' because of the size or shape of their body, or for any reason! Our foods are overly processed and overpriced. We need to learn how to prepare real food and we have to be strategic where we spend our money. We simply can't afford to keep dishing out billions of $$ on quick fixes, not-so-magic shakes, specialty diet potions or high priced private trainers. And don't get me started on the price of gas just to GET to the gym!
Once you learn and adopt my highly effective routines of eating healthy and exercising safely, you will be shocked at the time, energy and money you save!
Membership are month to month (you pay for the month in advance). Cancel at any time without penalty.
Membership are month to month (you pay for the month in advance). Cancel at any time without penalty.
The on and off the wagon pattern isn't working and you know it in your heart! What DOES work is creating systems and routines that you can incoporate INTO your life instead of changing your entire life for temporary results! I have a system that works and I'm here to share everything I know with you.
NEED HELP SIGNING UP, HAVE QUESTIONS OR WOULD LIKE TO PAY WITH E-TRANSFER?
Please contact me by emailing info@journey2wellness.ca with VIRTUAL FIT CAMP in the subject line.