Certified Personal Training Specialist - canfitpro

Nutrition & Wellness Specialist - canfitpro

Pre & Post Natal Fitnes Specialist - canfitpro

Healthy Eating & Weight Loss Coach - canfitpro

200Hr Yoga Instructor - Kripalu

TRX Qualified Coach
Owner/Fitness & Wellnes Specialist/Your Biggest Cheerleader
Deborah is not only the founder and owner of Journey to Wellness, but she is the heart soul and face of the business. She has been working in the fitness industry since 2007 and has made it her life mission to help as many people as possible live their healthiest and best life. Deborah had just come out of the biggest slump of her life - her daughter was three years old and she knew that it was time to turn her passion into something tangible ... and she never looked back! Now a Mom of three and busy business owner, she knows first hand how difficult it can be to "do it all" but has learned that with a few planning tools and mindset switches, it is possible to make healthy eating and exercising a normal part of your life. With a full roster of clients,
Private Training
, availability is very limited at this time. But if you are ready to truly commit to making changes and seeing results like you've never seen before, you can check out more details and available timeslots
HERE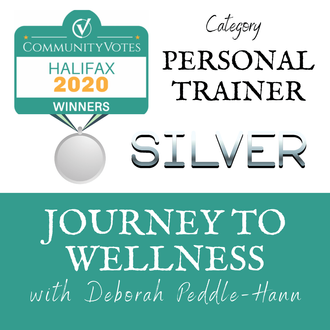 recent private speaking engagements...
"Deb has been a constant over the years. She has always been there to help me turn things around when I struggle - and when needed, tell me to get my head out of my ass!! ~ Cindy

"Deb is one of the most inspiring women I know. Becoming one of her clients means your life will change." ~ Jo-Anne

"Right from our first one on one meeting, Deborah made me feel comfortable and I've now made fitness a part of my routine" ~ Brenda